AMICUS Curriculum is organized in four stages of student development. At each stage, we implement our educational philosophy in all subjects, by following specific teaching guidelines.
Four Stages of Development
For a balanced development of students, AMICUS offers four stages
throughout ten to eleven consecutive years of instruction,
from Kindergarten to 9th grade.

This stage marks the beginning of formal education where students gradually get used to learning through English and at the same time enjoy AMICUS' unique environment. Students develop basic literacy and numeracy skills and gain confidence as they acquire fundamental social skills in an international setting.

Students start building their foundation for learning as more academic subjects are introduced from grade three, such as Science and Social Studies. They would have also gained a greater confidence in using English as a tool for communication and learning. More cross-grade level activities are introduced here for students to build their social skills through collaborations between students of different grades.

Students deepen their language skills through Language Arts program. They also heighten their academic skills with more intense subject contents. Through various field trips, overnight camping and school trip to mainland Japan, they learn to think, learn and act independently. They are encouraged to explore their strengths and future goals at this stage.

Students develop a higher level of autonomy as they form various student bodies such as student council and subcommittees. They discover their potential through personal research activities and projects. Students start forming goals for their future as they prepare for higher education.
Characteristics of Subjects
English
Cultivating the Ability to Lead the Global Society
The English program at Amicus is led by a team of licensed teaching professionals brought to Okinawa from around the world. These teachers, with diverse backgrounds, use the Ontario Language Arts curriculum from Canada to build our students language skills.
Amicus exposes students to a balance of 5 vital English language skills: listening, speaking, reading, writing and media literacy. Students begin their exposure to English from Kindergarten with the introduction of phonics, songs and the foundations for reading and writing. Students learn to read from levelled reading texts and gradually move to novels. Students learn to write a wide variety of texts (essay, poetry, formal and casual letter) with the lengths growing longer and more complex as they move through our language arts program. Media literacy skills include understanding the construction of and creating media like posters, brochures, movies and commercials. This critical 21st century skill is taught in depth at Amicus starting in Grade 1. Students prepare and present individual or group work during each language unit at Amicus to reinforce their speaking and listening skills.
The goal of the English program at Amicus is to instill students with the skills they need to be able to enter and succeed in an English speaking high school in the country of their choice.
Mathematics
"Fun" Mathematics which Stimulates the Curiosity of Children
At AMICUS, mathematics emphasizes not only the content to be taught, but also the processes and daily relevance of learning mathematics. We use the English version of MEXT textbooks and supplement it with other resources, such as Singapore Math for the lower grades.
Students benefit from the close collaboration between the English and Japanese teachers, through team teaching, students are to gain a better grasp of the mathematical concepts from different perspectives. The class homeroom Japanese teachers work closely with the English teachers to support students who may encounter difficulty during math lesson due to a language barrier. To ensure that students understand their math content in both languages, Japanese worksheets are used on certain days for upper grades in the morning 15-minute homeroom.
Through our math program, our students become confident communicators with mathematical thinking skills, and grow to be Glocal Citizens who can investigate, express and make judgment in their personal and future lives.
Japanese
Developing the Children who Can Use the "Communicative Words"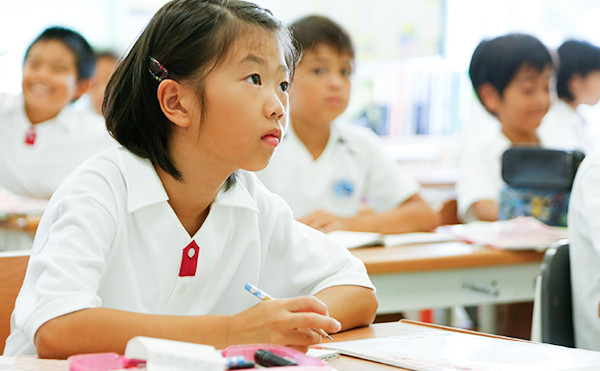 Japanese language study at AMICUS emphasizes three pillars of abilities, which are the abilities to "think", "learn", and "express." Learning of Japanese is the learning of "language", in the same way as for English study. Utilizing the unique international AMICUS environment, we are actively engaging in language activities of "communication." In the 2004 school year, we took on a challenge of the Japanese Kanji Aptitude Test, "Kan-ken", and received the "Excellent Group Award" at the first time.
Science
Uncovering the "Mysteries" in the World ~ Through Hands-on Learning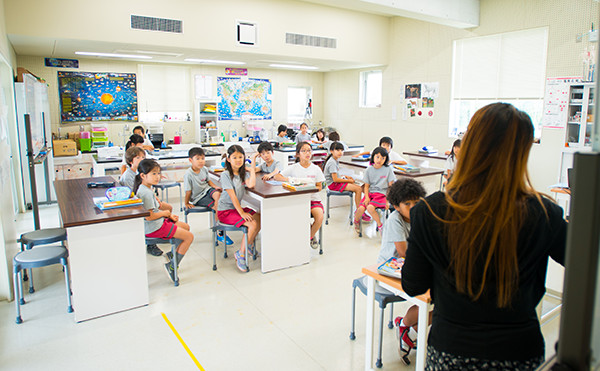 The  Amicus science team emphasizes the hands-on experiences, involving the five senses; seeing, touching, smelling, hearing and sometimes tasting. Students receive a balanced foundation through textbooks and deepen their scientific understanding by coming in contact with the many mysteries of the world and trying to uncover the secrets behind them.
In addition to Japanese national textbooks, Science Fusion texts from the US and other digital resources are also utilized to enrich student learning.  In class teachers place an importance on curiosity and the joy of discovering in a safe environment. The joyful noise of learning can be heard in and around the Amicus science rooms every day.
Social Studies
Developing the Glocal Citizens who "Think Independently"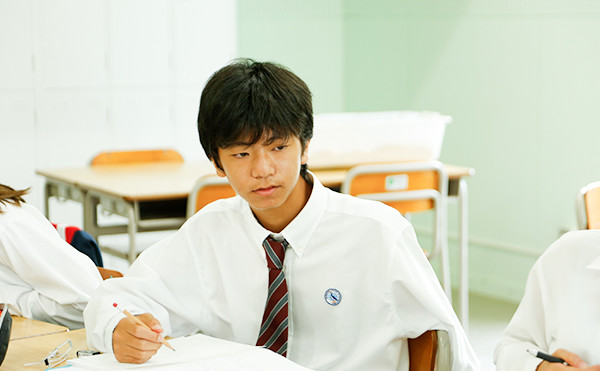 Social studies at Amicus has an overall focus on students understanding and having the skills to become productive engaged members of society. The Japanese national social studies curriculum is taught with the support of a teaching staff that has studied and traveled all over the world. Classes are mostly project based and cover a wide variety of topics ranging from basic community services in the younger grades to complex global issues in the junior high school. The social studies content is examined from the perspective of Okinawan, Japanese and global citizens giving students the ability to recognize bias and multiple perspectives about a single issue. The idea of understanding multiple perspectives for a single issue and bias are very difficult skills to learn in Japan and will give our students a strong foundation to live and work cohesively and proactively anywhere in the world. The social studies content at Amicus is specifically  taught to promote the Amicus concept of Glocal citizen a major part of our school philosophy.