Towards the Independent Stage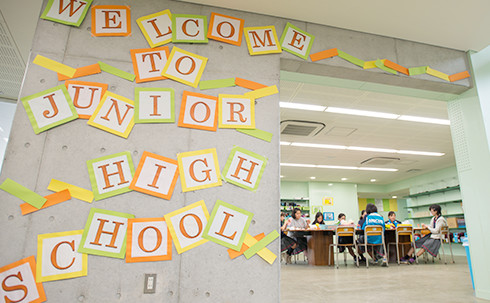 Students develop a higher level of autonomy as they form various student bodies such as student council and sub-committees. They discover their potential through personal research activities and projects. Students start forming goals for their future as they prepare for higher education.
Learning Emphasizing OUTPUT
In the classes of each subject in Junior High School, our students are asked to build up their knowledge through collaborative studies and to logically compile and present their own opinions in the report assignments, discussions and debates. Throughout the ninth grade (senior year in Junior High School), students engage in "individual project," where they set up their own themes, conduct surveys/research, and make presentations. Combining such "Dispatching" ability developed in this project with "Language fluency" which is accumulated throughout the elementary school years, will be the driving force to launch the students into the internationalized society.
High Level of Self-Governance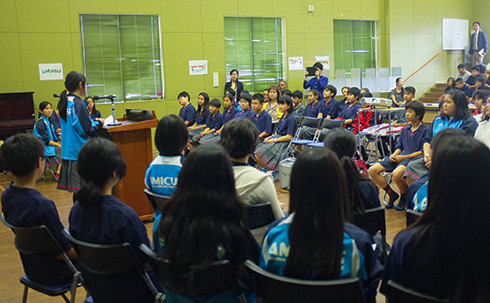 In junior high school, students begin to engage and play a central role in high level of self-governance through the "Student Council / Sub Committees." Students themselves think out the ideas for improving the school, and by planning and executing the activities they gain the skill to live autonomously in the society. The executive members are elected by democratic election and they begin to gain the capacity to act as leaders through training activities such as leadership training. Since such activities are conducted beyond the borders of the courses and grades, students can deepen the exchange among the students from other grades and courses.
Supporting the Voyage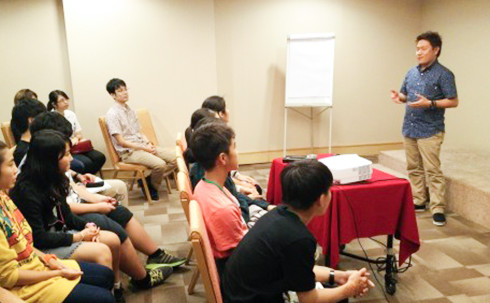 AMICUS does not have a high school. To assist our students to venture out from AMICUS to each of their future endeavors, we support them to find and take the first step towards each of their dreams. Through attending career study sessions, lectures and classroom activities, students can listen in the stories of successful people from various fields, talk about their dreams with one another, and prepare for their future journeys. For students advancing to Japanese senior high schools, we provide supplementary mathematics and science classes that are taught in Japanese once a week .
Daily Schedule (JHS)
| | |
| --- | --- |
| 8:15-8:30 | Arrival / Morning Work |
| 8:30-8:55 | Short time learning / Homeroom |
| 8:55-10:40 | 1st & 2nd periods |
| 10:40-10:50 | Preparation / Transition |
| 10:50-12:35 | 3rd & 4th periods |
| 12:35-13:40 | Lunch / Recess / Cleaning |
| 13:40-15:25 | 5th & 6th periods |
| 15:25-15:35 | Homeroom |
| 15:35 | Dismissal |