Based on consecutive years of K-G9 instruction, we give support to the students to make decision on the post-graduation directions leading to their future dreams.
Paths of Our Graduates
Okinawa AMICUS International Junior High School proudly announced the very first 35 graduates in March, 2017.
Here is the list of the schools they will attend after the graduation.  
Name
Number
Abroad
Teikyo School United Kingdom
1
Mainland Japan (Private)
Aoyama Gakuin
Kanto International (English)
Kanto International (Korean)
Mejiro Kenshin (Super English)
Edogawa Gakuen Toride
Nagoya International (International Studies)
1
1
1
1
1
1
Okinawa (Private)
Okinawa Shogaku
(Top National Universities)
(International Department of Humanities &Sciences)
(challenger)
Konan (Comprehensive Studies)
Okinawa Christian School International
Zion Christian Academy International
-
1
1
4
1
1
1
Okinawa (Public)
Naha Kokusai (General )
Naha Kokusai (International)
Kyuyo (Math&Science)
Kyuyo (International English)
Maehara (General/ English)
Kadena (Comprehensive Studies)
Kitanakagusuku (General)
Koza (General)
Futenma (General)

2
3
3
3
3
1
1
1
1
Okinawa (National)
National Institute of Technology, Okinawa College
1
Sister Schools
In Okinawa
Okinawa Shogaku High School (Okinawa)
Outside Okinawa
Linden Hall School High School (Fukuoka)
Columbia International School (Saitama)
Abroad
Eltham College (Australia)
Fieldstone School (Canada)
Ojai Valley School (U.S.A)
Introduction of our Sister Schools Abroad
Eltham College (Australia)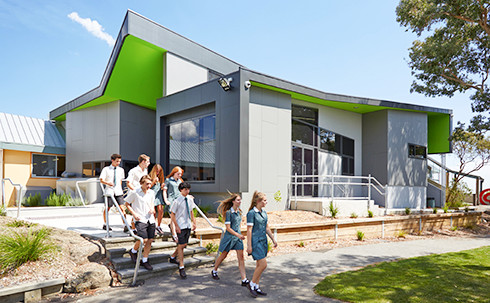 Driving out about 40 minutes from the artistic city of Melbourne, Eltham College is situated on a property as big as Tokyo Disneyland in a rich natural environment. Established in 1974, it is an integrated, coeducational private school from kindergarten through junior high school with approximately 900 students. Eltham College provides a broad range of extra-curricular activities especially in music, art and sports. Students indulge in jazz ensemble, chorus and string orchestra with topnotch equipment in a cutting-edge setting or enjoy hockey and cricket in vast and varied facilities. They often engage in active debates as well. Eltham College operates 'Swipers Gully', which is a fully-functional café and restaurant that is open to the public. It is where the students learn hospitality management. Students in Years 8 and 9 operate the College Coffee Shop within the restaurant, with particular focus on Year 9 students exploring employment and work experience opportunities.
We established a sister school alliance agreement with Eltham in 2012, and Amicus students have a chance to join their 3-week summer program. During the program, our students attend Eltham College's regular classes together with local students and experience homestays in Australian families. Amicus students may also choose to go to Eltham College as preferred applicants.
Eltham College(official website)
Fieldstone School (Canada)
Fieldstone School is located in a tranquil and peaceful neighborhood about 10 km northwest of the center of Toronto. Established in 1997, it is an integrated, coeducational private school from kindergarten through high school with approximately 300 students.  Fieldstone School is known for its innovative curriculum, fully individualized care, excellent teachers and staff in a very homelike environment. It offers an enriching and unique blend of Cambridge-Ontario curricula with an average of 12 students per class.  Many of the Fieldstone graduates are attending prestigious universities in Canada, the US, Japan, and etc. With its student body being half foreign students, Fieldstone College provides a comprehensive and personalized after-school tutoring session for each student to meet their academic needs. There is a regular Japanese staff on campus to help foreign students from Japan with any problems. Periodic reports on school life are sent out to parents to keep them updated.
We made a sister school alliance agreement in early 2016 and are expecting a long-lasting relationship among students, teachers and staff through various programs as well as a post-graduation school from Amicus.
Fieldstone School(official website)
Ojai Valley School (U.S.A.)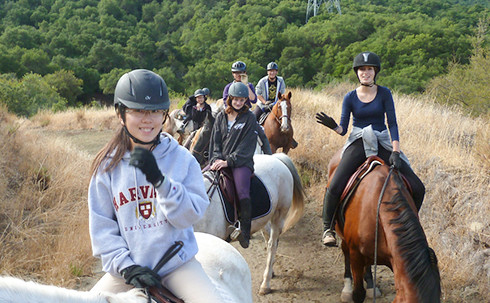 Situated on the greenery of Ojai Valley hilltop about 100 km north of Los Angeles and 1 hour drive by car, Ojai Valley School was established in 1911 by Mr. Edward Yeomans, a Princeton University graduate. It is an integrated, coeducational private school from kindergarten through high school with approximately 300 students from more than 15 regions around the world, and about 40% of them stay in a dormitory. The school incorporates a WASC (Western Association of Schools and Colleges) curriculum with an average of 13 students per class. Many students graduate from Ojai Valley School with brilliant records, and they have attended Boston University, Brown University, Columbia University, Oxford University, University of California, Berkeley, and etc. in the past. Ojai Valley School provides excellent after-school tutoring sessions for international students, who are about 20% of the student body. Ojai Valley School's philosophy is contained in the words Integer Vitae – meaning wholeness of life, symmetry of life, soundness of life, and, therefore, poise and strength of life. The students are presented with a wide variety of experiences through college preparatory studies, campus life, educational field trips, student activities, athletic programs, community services, and outdoor education in the great nature within the campus. The Ojai Valley School especially focus its support on the equestrian program. It owns about 40 horses and is one of the few equestrian boarding schools in California with stables on campus, allowing students to walk from class to the barn to ride nearly every afternoon in place of sports or P.E. classes. Competitive riders can participate in competitions, regional shows, jumping and dressage clinics.
In early 2016, we made a sister school alliance agreement with them. Ojai Valley School is a potential post-graduation school from Amicus students and we are expecting a long-lasting relationship with them through various programs.
Ojai Valley School(official website)