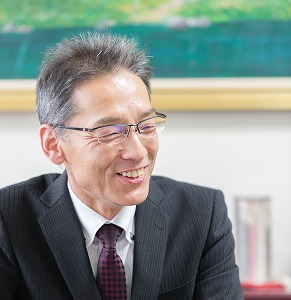 Nagatoshi Yasui, Principal
It has been my desire to develop "Glocal Citizens" (nurturing Global Citizens with Local Relevance) who will be the ones to help raise the next generation. I am sincerely thankful for the opportunity to take part in the leadership of AMICUS International.
Education around the world is going through a significant change. In Japan, a reformation is in progress that will begin with the new university entrance examinations in 2020.
Examinations will focus more on one's independence, ability to think, judge and express themselves based on their experiences rather than simply measuring their quantity of knowledge. It will be education with an emphasis on individuality and require the students to develop the ability to problem-solve.
AMICUS was established in April of 2011 in order to create a desirable educational environment for the children of the OIST community. Additionally, it was to serve the purpose of developing international human resources in Okinawa prefecture.
 "Developing global citizens who can think, learn and act independently in a learning environment where students forge their own paths for the future."  Under this educational philosophy, teachers from 15 different countries have come together to teach here. To be sure, nothing is more international than our everyday life at AMICUS.
AMICUS has affiliated schools not only in Okinawa and Japan but also in Australia, Canada and the United States. After graduation, students take off to destinations both locally and internationally to realize their potential.
Learning at AMICUS helps equip young people with the desire to challenge both worldwide and local issues that matter to them instead of leaving that responsibility to others. We teach them the knowledge and skills necessary to resolve those issues and stimulate their intellectual curiosity at the same time.
This ideal is our school's founding principle—our unshakable DNA—that we continue to foster and build upon year after year. As teachers and staff, we make great efforts to create a school where students feel secure and enjoy themselves.