AMICUS?

AMICUS means "friend" in Latin. It is also the root of the Spanish word "amigo." The word "agudus" means "close friend / classmate" in the Miyako-jima dialect. A certain theory unveils the possibility that it reflects a Spanish influence via the Philippines.
Emblem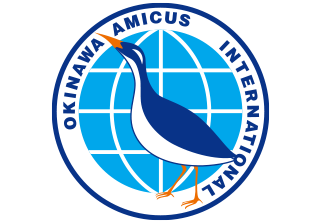 The emblem of AMICUS is modeled after the Okinawa Rail, which is the endemic Okinawan bird officially recognized as a new species in 1981. It has been well known among the people in Yanbaru, and the bird is called "Agachi" or "Yamadui."
Scientific name: Rallus okinawae
Our School Song
Agu-Dusu ~The Bluebird of Happiness~
Lyrics: Tomoko Sakakibara
Translation: Makiko Chiashi et al.
Music: Tetsuaki Shimajiri
Aoi umi hino hikari toriya kigiya shimaga umareta
(Rays of the sun shine on deep blue sea gives birth to the land, birds and trees)
Tsuya tsuyashii ame shizuku mebuku urumayo hanayo 
(Rain drops fall down to create new life blooming flowers, the beautiful Uruma)
Tidanoko kajinoko tinmi kamiti umari*
(Child of the sun, child of the wind "Tinmi kamiti umari"*)
Chikyuo arukou ikou sorao miagete
(Hold in our hearts wherever we go precious gifts from above)
 Kyururu kyurururu naku toriyo sora soraeto tonde iku
(Kyururu kyurururu voices up high blue birds travel as they sing in the sky)
Kyururu kyururu meguri meguri dokoe tondeiku
(Kyururu kyurururu catching the wind fly away with a free mind)
You're the hope across the sea
Bridging those who disagree
The light shining down on the world
Someday you may need to go forward alone
Someday you may have to fly on your own
Kyururu kyurururu like birds in the sky
Trust your wings, they'll never fail you
Hyururu hyurururu ride with the wind
Hyu-ru Hyu-ru-to reach the sky
Hyururu hyurururu 'till you find your place
Let your dreams guide you
*An Okinawan proverb, meaning "We were born with a precious destiny given from heaven."