Education at AMICUS
G1 Induction Stage
In the effort to make a smooth transition from preschool education to elementary school life, we set three educational objectives for the first grade: "enjoy the school life", "try things without fearing failure", and "think before acting". Emphasis is especially on mingling and exchanging with the students from other grades, as well as making connections among various subjects in instructions. To this end, the curriculum is structured in comprehensive and associative way, so that the broader teaching unit which covers multiple subjects gradually differentiates into each subject unit.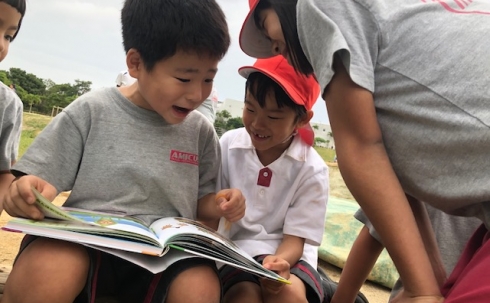 G2 Induction Stage
 By this time, children became accustomed to the school life, and they increasingly favor mingling with their friends. To provide more opportunity to communicate with others, we are incorporating a wide range of exchanging opportunities into classes and school activities with students from different grades. Through such exchanges, each student will face up to his/her goal and begin to support one another, building gentle and supportive spirit to give hands to his/her neighbors. We also use ICT in classes, encouraging children's' ability to summarize their thoughts by making presentations with LoiLo Note.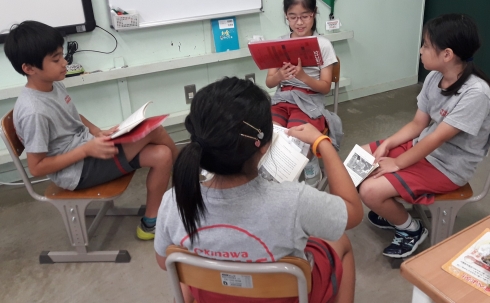 G3-G4 Foundation Stage
Students start building their foundation for learning as more academic subjects are introduced from grade three, such as Science and Social Studies. They would have also gained a greater confidence in using English as a tool for communication and learning. More cross-grade level activities are introduced here for students to build their social skills through collaborations between students of different grades. In addition, by incorporating many presentations in both Japanese and English, children will be able to actively convey their thoughts to others.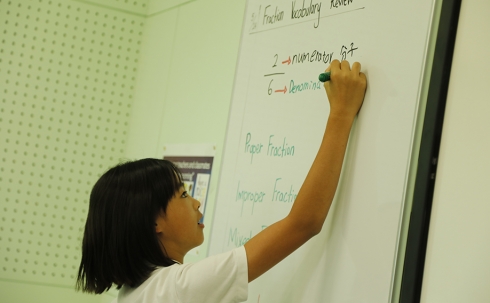 G5-G6 Orientation Stage
Students deepen their language skills through Language Arts program. They also heighten their academic skills with more intense subject contents. Through the English speech contest and presentations using ICT, they will further improve their English skills they have cultivated. Through various field trips, overnight camping and school trip to mainland Japan, they learn to think, learn and act independently. They are encouraged to explore their strengths and future goals at this stage.
Characteristics of Subjects
English
Cultivating the Ability to Lead the Global Society
English lessons at AMICUS are conducted by our professional team of qualified teachers from around the world. Our richly diverse team has adopted the Canadian Ontario curriculum to enhance students' learning. The curriculum is designed so as to ensure students acquire a sound foundation upon which to develop and raise English levels through our unique study program. Through thinking about skills comprehensively, reading, writing, speaking and listening, after a few years it is possible to acquire English levels close to those of native English speakers of the same age and grade.To achieve world-class success with English classes at AMICUS the key is cooperation between children, students and our families. This year sees the introduction of programming into the English curriculum, which along with the existing focus on media literacy gives our students yet another way of seeing language.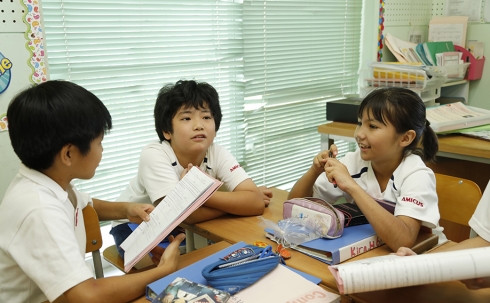 Mathematics
"Fun" Mathematics which Stimulates the Curiosity of Children
In Mathematics at AMICUS we attach importance to the practical utility of maths with an emphasis on actual problem-solving and not just teaching content. Lessons are conducted according to the requirement of the MEXT curriculum. To ensure understanding and help students who are struggling Japanese teachers work in tandem with our overseas teachers to team teach. We use the MEXT textbooks but with English translations, so parents can help children review at home. AMICUS also has a unique online glossary of the MEXT vocabulary in English. Through their mathematics classes, students will gain confidence as mathematical thinkers and develop as communicators, becoming global citizens who can discover, express themselves and take decisions throughout their lives.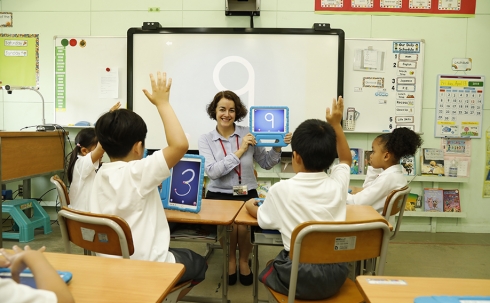 Japanese
Developing the Children who Can Use the "Communicative Words"
Japanese language
study at AMICUS emphasizes three central pillars of abilities, which are the abilities to "think", "learn", and "express." Learning Japanese is the learning of "language", in the same way as for English study. Utilizing the unique international AMICUS environment, we are actively engaging in communicating thoughts and ideas with one another through language. Since  school year 2014, we have participated in the challenge of the Japanese Kanji Aptitude Test, "Kan-ken", and received the "Excellent Group Award" six times running.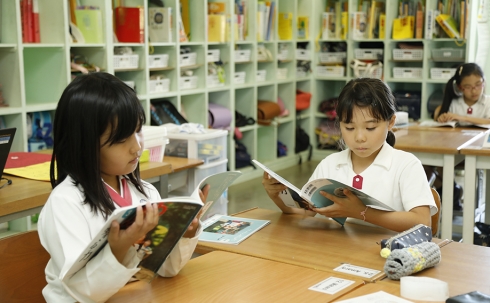 Science
Uncovering the "Mysteries" in the World ~ Through Hands-on Learning
In Science at AMICUS we emphasize hands-on learning, seeing, touching and feeling for oneself. In addition to English language versions of the MEXT-approved Japanese Science textbooks, we also use Science Fusion, with its online resources. We also have a unique online glossary of science terms to help our second language learners. We do not simply follow the textbooks but deepen learning by encountering and learning what lies behind the many mysteries of the world. Emphasis is placed in classes not on what you know, but on having the desire to find out what you don't, and on the wonder of finding out what had been hidden. From AMICUS science labs today one can hear the surprised voices of children.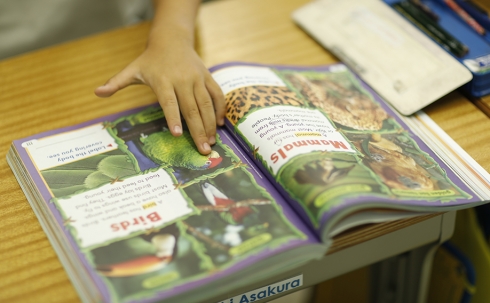 Social Studies
Developing the Glocal Citizens who "Think Independently"
Lessons in Social Studies at AMICUS are designed with the aim of providing children with an understanding of society and the ability to be a member of it. The MEXT curriculum is used flexibly and outstanding classes from around the world are incorporated in order to nurture in students the qualities that will enable them to take initiative in work or life throughout the world. Lessons are project-based and range in content from the fundamentals of living in society to, at higher grades, looking at the geography and social structures of Okinawa and Japan from a global standpoint. The knowledge and abilities acquired through Social Studies classes at AMICUS are also the philosophy of the school. We see it as the foundation for the nurture of glocal citizens. The school in addition seeks to enhance students' awareness of social issues on an international scale through our membership of Round Square.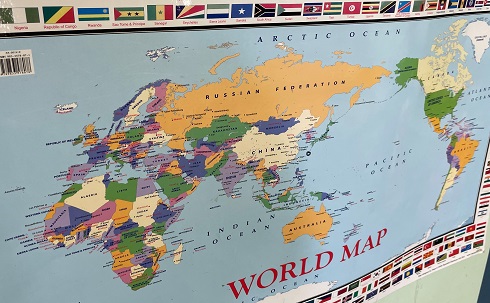 ICT in Education
Toward Glocal Digital Citizens 
At Amicus, we aim at fostering an appropriate attitude to participate in the information society.
Students are familiarized with Digital Ethics within moral education classes and whenever using technology or digital information sources such as search engines, online encyclopaedia, newspapers, etc.:
Lectures and discussions on positive and negative aspects of daily technology
Cross-curricular development of critical thinking and media & information literacy (validity and quality of information, opinions vs. facts…)
Netiquette (basic rules of conduct) and legal issues (material licenses, cyber-bullying…)
Through various projects, students are encouraged to become active producers of information, art and technology:
Writing and sharing (essays, reports, blogs, reviews, presentations…);
Audio-visual production (instructional videos, creative short movies, podcasts…);
Software and hardware design (video games, robots, electronic devices…).
Lower Grade (G1-G3)  
Introduction of basic ICT skills
Students learn basic ICT skills like typing, navigating in menus and folder structure, searching for information or illustrations, and editing texts using PC and iPad. They also use the same online programs as on the iPads with a different interface, which helps them becoming more flexible with technology.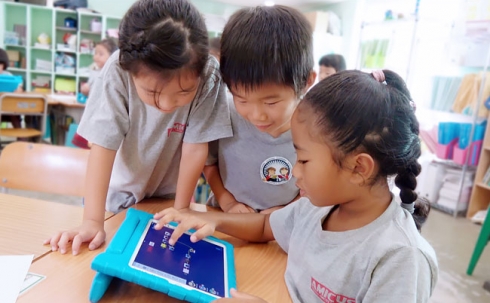 Upper Grade (G4-G6)
Reinforcement of ICT skills to improve problem-setting and solving skills
Students demonstrate proper use of school equipment and digital tools, improve established skills needed in creating and producing output,and understand of how things work. From grade 4, students begin to formally study programming.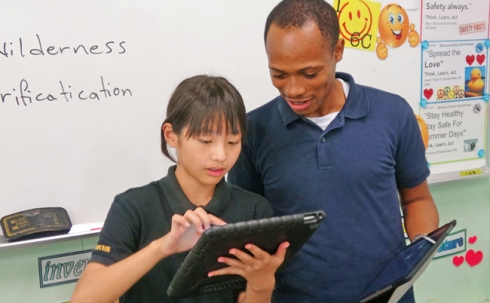 Using ICT in the Classroom
Here are some online programs and apps used at AMICUS.
Vocabulary Spelling City
Typing Club
LoiLo Note
Raz-Kids
Arcademics
Accelerated Math

Education at Library



The Media Center (Library) is located in the center of the school building. Children walk through the library to go to each classroom every morning. Since they have many opportunities to go through this hub, the library becomes a welcoming place for the students.
 A special feature of the AMICUS library is its volume of foreign books. As of 2020 School Year, the total is 13,600 books (8,600 Japanese books and 5,000 foreign books). Our foreign teachers help to select books which are worth reading and appropriate for the children. There are collections in English and Japanese for popular books, such as "Harry Potter", or picture books. Therefore, the children can enjoy reading books in a unique AMICUS' way, by reading one book in Japanese and try to read the same book in English or vice versa.
 
For the children who spend a long time of their lives in AMICUS, from Kindergarten to Junior High School, the media center is also a place to relax and socialize. We try to utilize the facility to fulfill children's intellectual curiosity and watch over their growth through their reading experiences.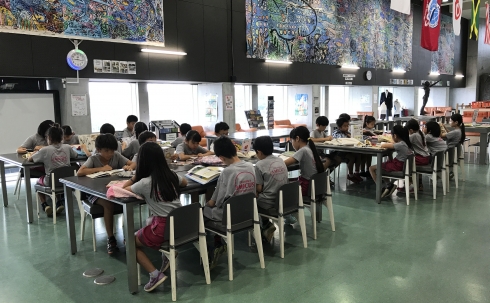 In elementary school, children use the library once in every two weeks as part of their Japanese class. Children like spending their time at the library, carefully choosing a book that they what to read. After choosing a book, they concentrate on reading and spending their limited time effectively. Also, children enjoy reading at the courtyard on a sunny day.
Events
April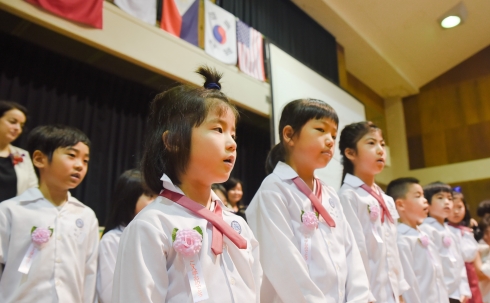 Entrance Ceremony
Exciting entrance ceremony! Now you are one of the AMICUS families!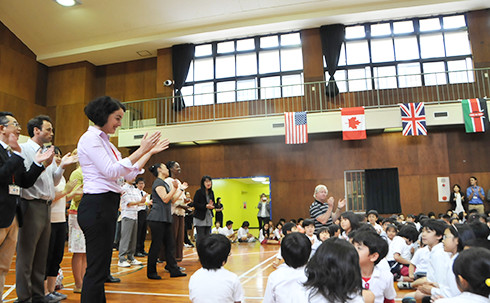 Opening Ceremony
It is a thrilling start to a new school year, with new classmates. Students are particularly excited about the announcement of their class teachers.
June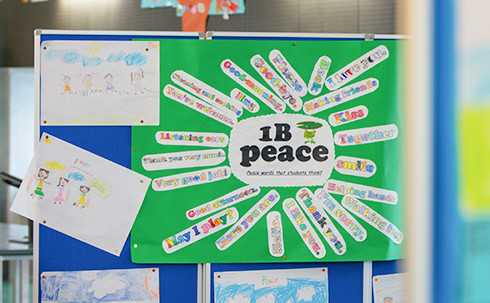 Peace Studies
Children think about peace and express it in pictures and writings on the occasion of Okinawa Memorial Day. Peace Assemblies are also held.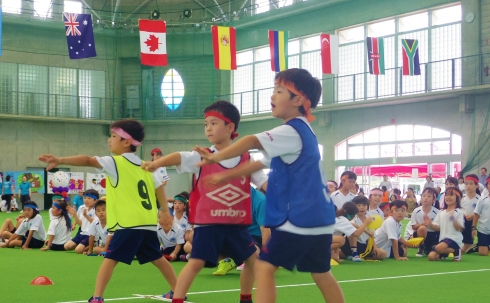 Family Sports Day
Students enjoy sports together with family members.
July-September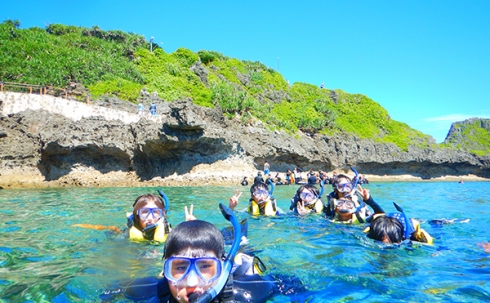 Snorkeling
Children enjoy the nature of Okinawa while they learn about sea creatures.
December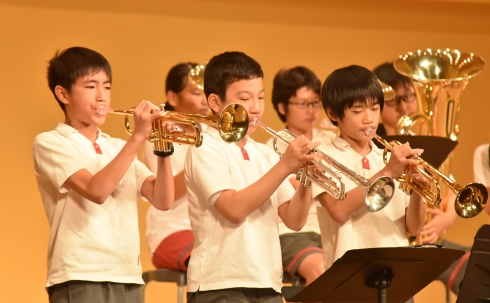 Performance day
Every year, a theme is decided and children perform songs and dances. Children experience the joy of performing what they have practiced for their families.
February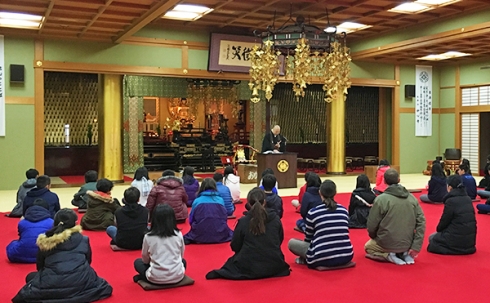 修学旅行
In elementary school trip, students visit some historical sites they learned in social studies and experience various cultural activities. After the trip, they present about their trip to the other graders in English as a post-study. Through the school trip, students will learn how to discipline themselves in groups in public places, and they will have a lot of memories which will prepare them for overseas training in junior high school. In the past, students traveled to Kyoto, Nara, and Osaka, visited Todaiji Temple, Koinji Temple, and Kiyomizu Temple and experienced zazen at Myoshinji Temple. Students also interviewed foreign tourists during the trip.
Career Experience
Our students visit where therei parents work to experience how it is like.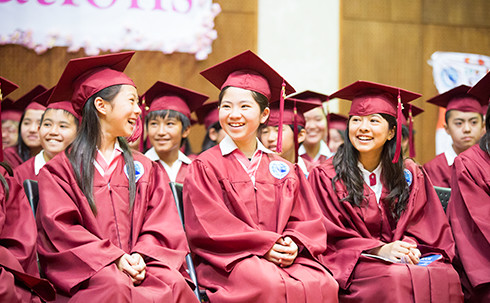 Graduation Ceremony
A graduation certificate is awarded to each graduating child. Every year, graduating students sing in a chorus and make presentations on their memories of the past school year. It is a joyful moment to see how they are growing.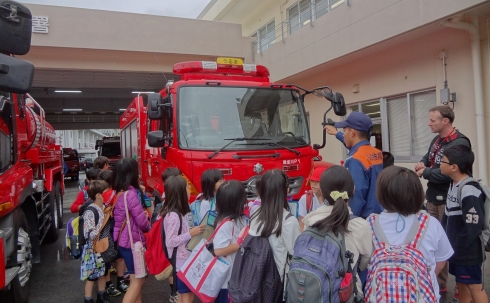 Excursions and Field Trips
Excursions and field trips take place at each grade level to experience nature and cultures.
Daily Schedule
| | |
| --- | --- |
| 8:15~8:30 | Arrival / Morning work |
| 8:30~8:55 | Quiet Reading / Homeroom |
| 8:55~10:35 | 1st and 2nd periods |
| 10:35~10:50 | Snack Time |
| 10:50~12:30 | 3rd and 4th periods |
| 12:30~13:40 | Lunch / Recess / Cleaning |
| 13:40~15:35 | 5th and 6th periods / Homeroom |
| 15:35~ | Dismissal / Pick-up |