Beginning Stage to Practice the Educational Philosophy of AMICUS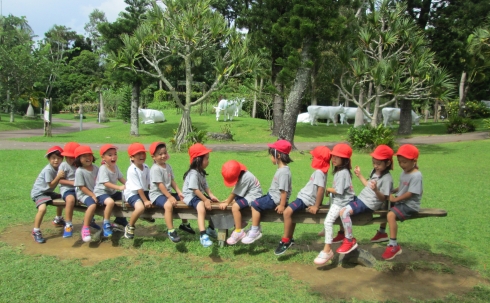 Kindergarten is one of the first steps for younger children to explore new expressions of becoming "less dependent".
They show a greater appetite for moving away from depending on their parents' care, and they become interested in connecting with peers in a group environment. It's a privilege for children during early childhood to capture bugs, understand, imagine, and to solve problems in a flexible array of ideas. This is why we encourage them to be curious, sensibility, during their early development.
Children have great potential to improve themselves, especially when it is something that they want to do. This is why in AMICUS Kindergarten, the teachers and the children hold a meeting once a month, to discuss the themes of what they want to do. Then they extend their web of themes and learn through activities such as Math, Language, Science, Social Studies, Art, and Music.
Activities on any decided "theme" may last up to three weeks. However, children work hard on their tasks, especially because it is something that they decided themselves.
Through these activities, children nourish sensibility, and they gain confidence for what they have accomplished, before moving on to their next stage, in elementary school.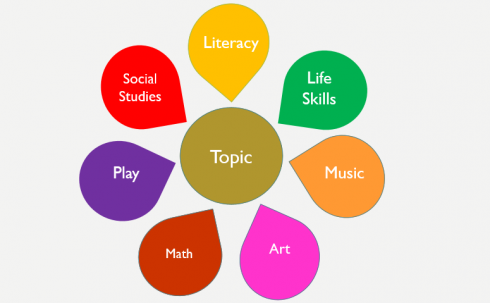 "LANGUAGE" acquisition 
Developing English and Japanese in good balance



In AMICUS Kindergarten, teachers  are speakers of both Japanese and English. We do this to make sure that both languages are represented at all times, so the children are familiar in hearing and speaking two languages. In the classroom, teachers give instructions in both languages.
In this bilingual environment, they are not forced to read and write. These two abilities come naturally, as the children learn while they play.
Through the activities in kindergarten, children will be given opportunities to present their work in front of their classmates. They gradually gain confidence as they share their ideas with the class. 
Establish good "RELATIONSHIP"
Build relationship with others through group work environment.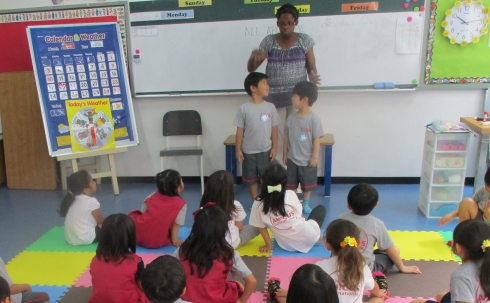 In K1, the first theme is "All About Me and My Family".  They get to know themselves and each other through different activities, such as drawing a self-portrait, getting-to-know-each-other games, and sharing about their family. Through this work, they can continue building a friendly relationship with peers.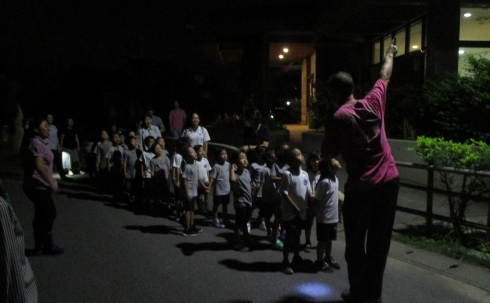 In September, K2 students accepted a challenge to stay overnight at AMICUS. They were grouped into teams, and cooked vegetable curry for dinner. For most of them, it was their first time to spend a night away from parents, so some cried.  However, they felt accomplished and more confident after getting through this special experience.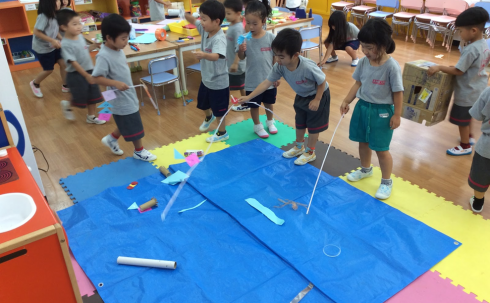 One child said he went to an Aquarium. The comment sparked an idea, and children started making fishing rods and various sea creatures. This fishing game set the trend for over a week. Each new day comes with a new set of fresh ideas that enhance and innovate their modes of play.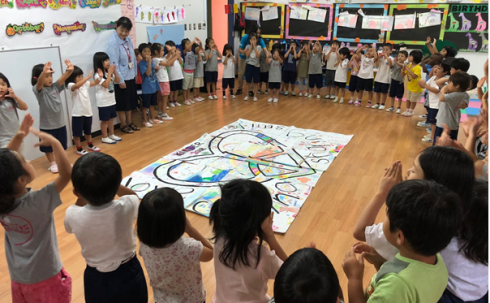 Honoring "Irei-no-Hi" (or "Okinawan Memorial Day"), both K1 and K2 worked together to make an original "PEACE Puzzle". This event afforded them an opportunity to broaden their understanding about peace, and attitudes toward their friends.
Build a "HEALTHY" body
Promoting health through exercise and diet  
Our aim is to develop children's basic motor skills, physical strength, and endurance. Most of them get motivated to develop all these aspects in a fun activity… like running a relay race, rolling on the mat, walking on stilts, building a body-pyramid, etc. They have fun doing it, as they grow in physical strength.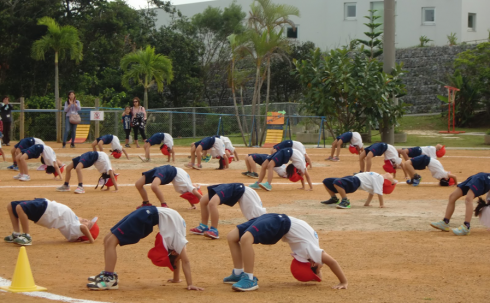 Swimming is one of the activities they enjoy the most during summer. They go to Gushikawa Swimming School to learn how to swim, and to enjoy the pool.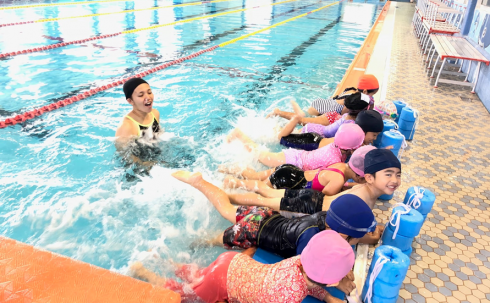 In November, children learn about "Food". They learn about what is healthy, and what is unhealthy. They are exposed to a fun variety of food. We have Food Festival at the end of the month, so they can experience the foods and cultures from around the world.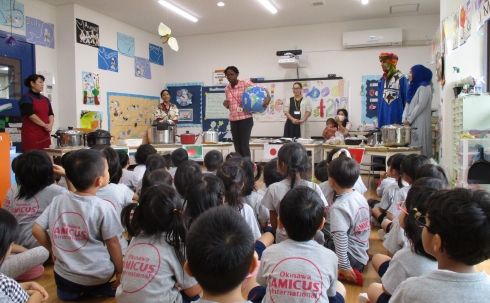 In January, children make Okinawan traditional food called "Muchi", which involves a ritual mindfulness that wishes for good health. Local tradition teaches that when it is eaten at the dawn of the new year, a strong body and freedom from sickness will endure for the rest of the year. In this special activity, parents help and teach children how to make muchi. Itadakimasu : )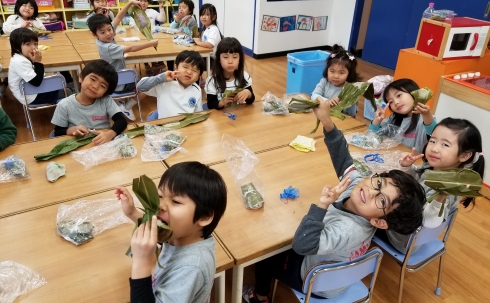 Becoming familiar with the "ENVIRONMENT"
 Hands-on experience in nature and the local community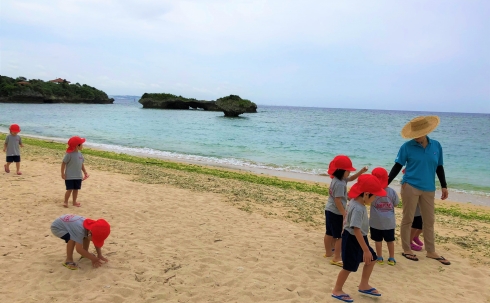 We implement many field trips as part of our curriculum  throughout the year. We go to places like beach, zoo, botanical gardens, and strawberry farms (subject to change). We extend our learning area to the fields to utilize childrens all five senses.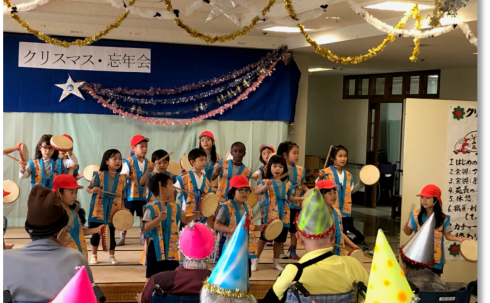 Children dancing and singing at nursing home. We also highly value connections with the community. We go to the local supermarkets for a shopping experience, and interact with the elders in the nursing home.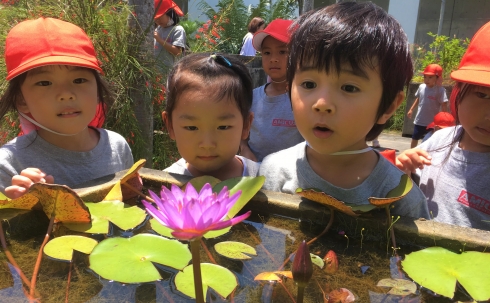 Through out the year, we have activities outside such as catching bugs, observing the nature and making colored water using flowers. Children experience changes in nature, through different seasons of Okinawa.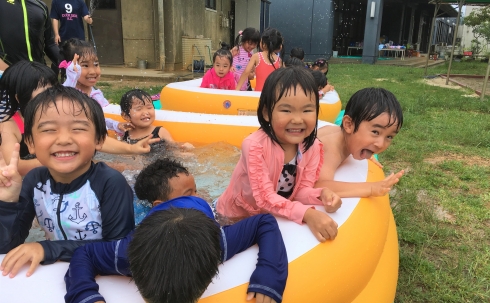 We play with water when it's hot. Times like this, our slide transforms into a water slide! Childres have a great time playing with the cool water under the heat.
Enjoying the "EXPRESSION"
Learning self-expression by singing, dancing, making craft and drawing.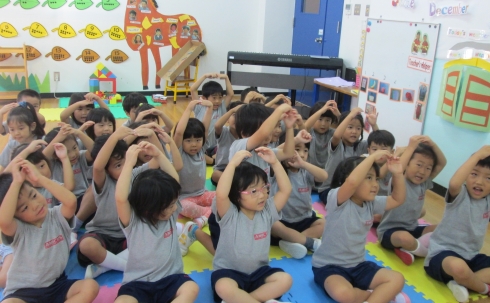 During Music, Children express them by singing and dancing to the rhythm and music. They learn how to play a variety of musical instruments, and present their work in the Performance Day.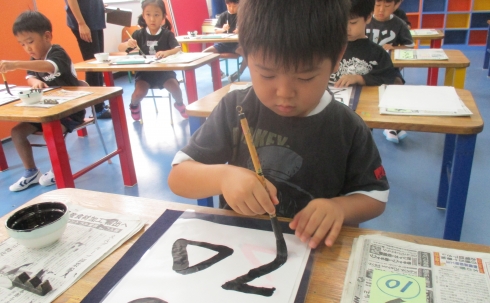 Kindergarteners are familiar with a lot vocabulary. They can freely express themselves through speaking. The next stage is self expression by writing and drawing. In this calligraphy lesson, sounding out the letters of their name is purposeful. Children write and draw using various writing materials, such as; chalk, pencil and pen. After learning the strokes needed for their name, they practice calligraphy using brush and ink. They enjoy the calligraphy lesson so much that they keep saying "Writing is fun".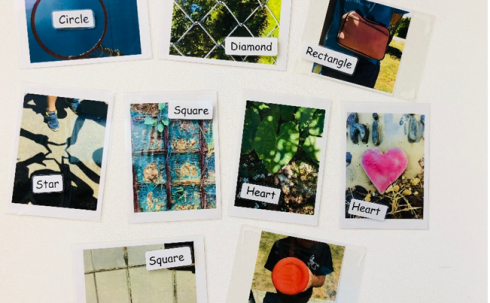 We use ICT in our classes. In this session, children use iPads to take pictures of many different shapes like circles, hearts, and diamonds…and they realize that there are many shapes around them in nature. They share these unique pictures with their teachers and friends. Every day we are always surprised by the amazing senses the children have.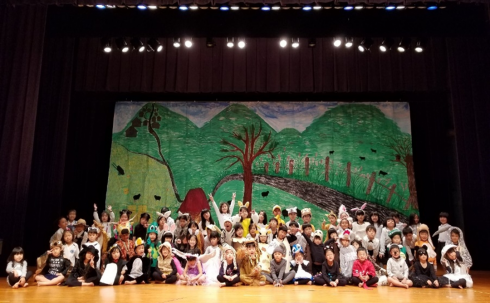 In January we have our annual Performance Day as a compilation of their learning in the kindergarten.  Children perform songs, dances, and theatre-plays in English. We put in our own ideas in our plots and effects that come up from the children. You will be amazed of how much the children grow within a year.
ICT in Education
Exposure and interaction with technology to improve academic ability and desire to learn
In Kinder, students are exposed to the digital world where they use images, video and audio materials during class activities to increase interest in learning.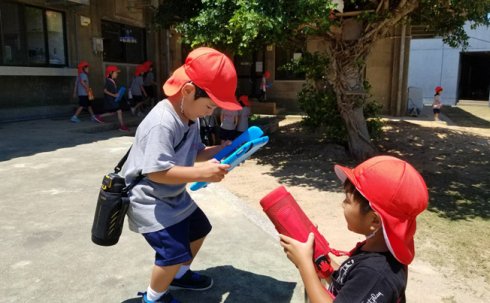 Education in Library
The Media Center (Library) is located in the center of the school building. Children in elementary and junior high school walk through the library to go to each classroom every morning. Since they have many opportunities to go through this hub, the library becomes a welcoming place for the students.
A special feature of the AMICUS library is its volume of foreign books. As of 2016 School Year, the total is 11,000 books (6,300 Japanese books and 4,700 foreign books). Our foreign teachers help to select books which are worth reading and appropriate for the children. There are collections in English and Japanese for popular books, such as "Harry Potter", or picture books. Therefore, the children can enjoy reading books in a unique AMICUS' way, by reading one book in Japanese and try to read the same book in English or vice versa.
For the children who spend a long time of their lives in AMICUS, from Kindergarten to Junior High School, the media center is also a place to relax and socialize. We try to utilize the facility to fulfill children's intellectual curiosity and watch over their growth through their reading experiences.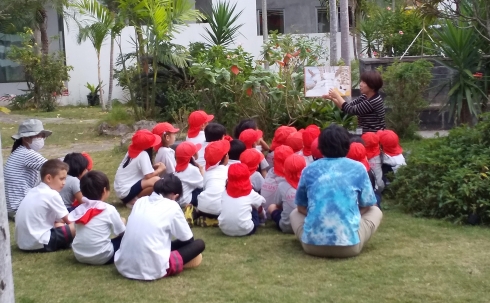 In kindergarten, K2 children start using the library. There is a book corner in the kindergarten, but they use the library once a week so that they can enjoy reading in the library space and feel the next step towards elementary school life.
School Events 
April
Entrance Ceremony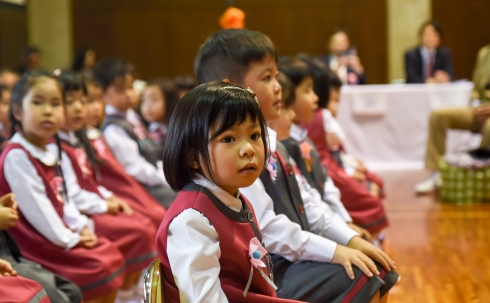 May
Open Class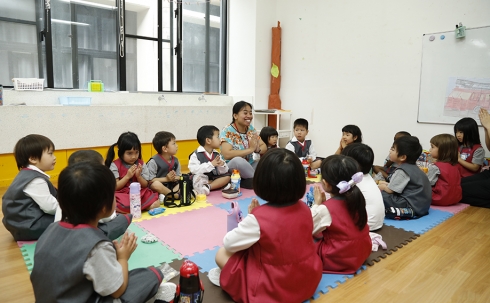 June
Peace Week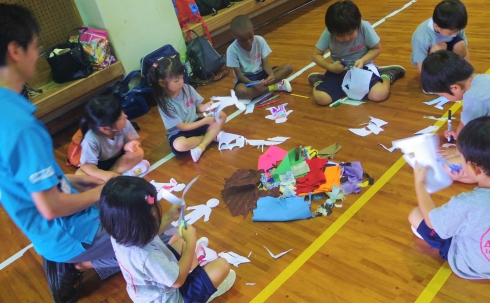 September
Overnight Stay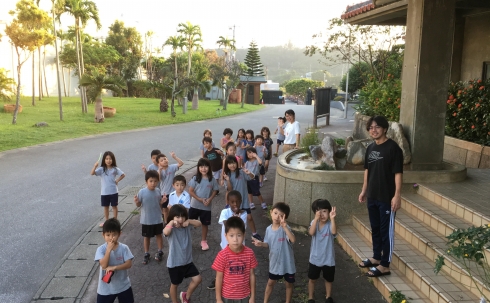 November
Family Sports Day
Food Festa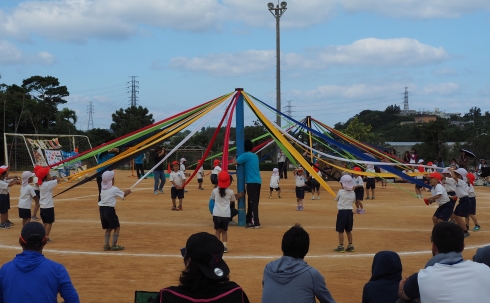 January
Marathon & Muchi making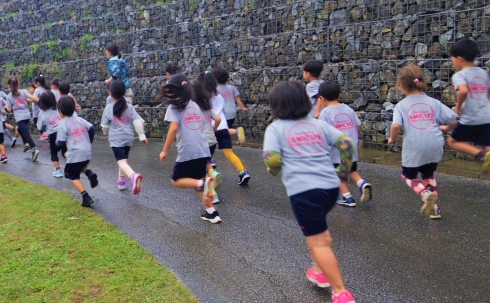 February
Performance Day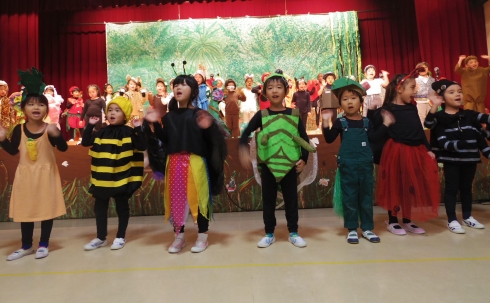 March
Graduation Ceremony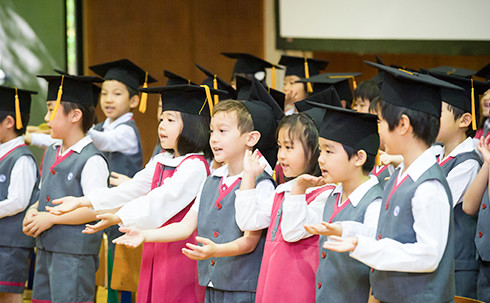 Other
Field Trip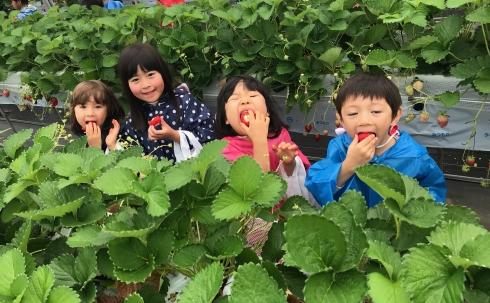 Daily Schedule (K1)
| | |
| --- | --- |
| 8:15~9:30 | Free time / Outside play |
| 9:30~10:00 | Circle Time |
| 10:00~10:20 | Snack Time |
| 10:20~12:00 | Activity time (P.E. : Once a week) |
| 12:00~13:00 | Lunch Time / Clean up / Brush teeth |
| 13:00~13:30 | Quiet Time (Read books / draw pictures / take a rest) |
| 13:30~14:30 | Activity / Station Time |
| 14:30~15:00 | Closing Circle |
| 15:00 | Get ready to go home |