Why an ICT Program?
In April 2011, the MEXT published a document entitled "The Vision for ICT in Education – Toward the Creation of a Learning System and Schools Suitable for the 21st Century". This comprehensive document presents recommendations and policies for using ICT in schools, in order to foster the abilities required for children who will be leaders in a knowledge-based, internationalized society:
The ability to think, make decisions and express themselves in order to solve various kinds of problems, including when it comes to learn proactively;
The ability to collect and process information, but also to create and transmit information appropriately, according to the purpose and the social context of the communication.
Amicus' philosophy is to enable our students to think, act and learn independently. Our developing ICT Program aims at progressively guiding the students to be fully part of a knowledge- and technology-based world, where digital literacy, information literacy and communication skills are key competencies. This program consists of activities designed for acquiring specific ICT skills, and a blended use of technology in all subjects. It also includes extra-curricular activities.
By the end of the K-9 Amicus Program, we expect our students to be both critical consumers and active producers of information, art, and technology.
Using ICT in the Classroom
Here are some online programs used at Amicus.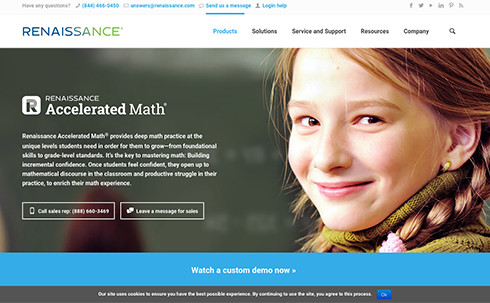 Accelerated Math
Online self-paced Math (Grade 2 to Grade 8)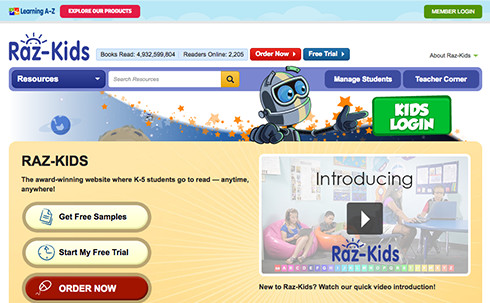 Raz-Kids
Online reading program (Grade 1 to Grade 4)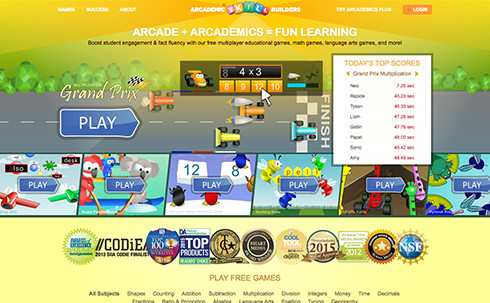 Arcademics
Games to practice repetitive Math and English tasks (Grade 1 to Grade 3)
All teachers have a laptop and an iPad. The Wi-fi network is available in all school buildings for teachers and students. The teachers use the digital equipment daily for classroom management, as well as to prepare and enhance their lessons with audio-visual documents, presentations, or interactive activities.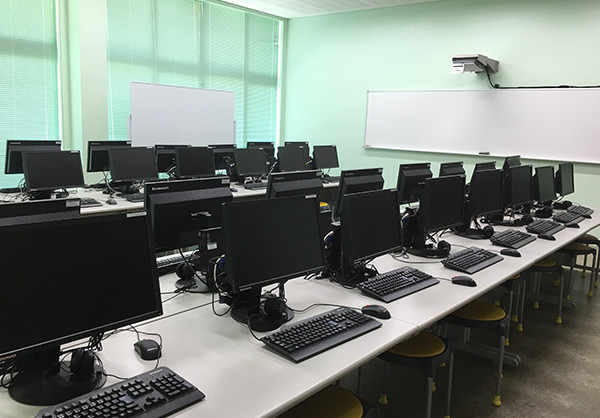 The PC Room consists of 32 desktop PCs and one teacher PC (Windows 10) connected to a LAN, headphones, a video-projector, speakers, and the CaLabo EX software to monitor and manage the student computers. There soon will be another mobile cart with laptop PCs (Windows 10) for upper-grade Elementary students.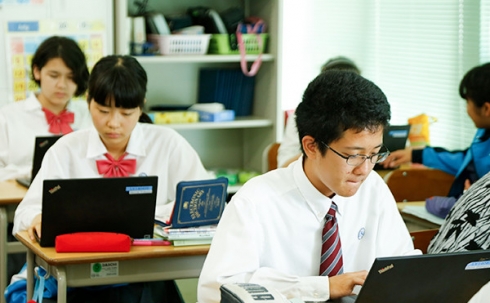 On the PCs, students learn basic ICT skills like typing, navigating in menus and folder structure, searching for information or illustrations, and editing texts. They also use the same online programs as on the iPads with a different interface, which helps them becoming more flexible with technology.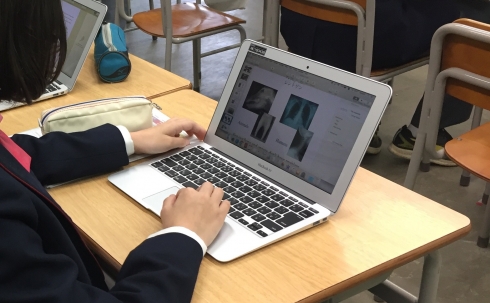 Finally, we are implementing a 1-1 program in Junior High School: each Grade 7 student receives a MacBook Air laptop to use in class, until graduation. The students use their laptops daily to search for information, access online programs and resources for learning, write essays and reports, make presentations, and create videos and music.
Learning Specific ICT Skills
Integration of ICT
Grades 1 to Grade 3 students have dedicated slots for ICT in their schedule (1 hr/week) to start using computers and tablets independently. Students also use ICT in other subjects. From Grade 4, the acquisition of ICT skills is integrated in academic subjects. From Grade 7, ICT skills are also part of the Technical Arts curriculum.
JHS laptops
By using their laptops regularly, students learn how to take care of their equipment, how to deal with various bugs and technical issues, how to choose the best solution for their needs, how to share their productions, and how to manage their digital identity in a safe and respectful way.
Amicus Time "Tech Club"
Students can choose to spend their "Special Activities" in the "Tech Club" (10 hrs/year, Grade 3 to Grade 6). In SY2015, they helped educating other students to use the school equipment properly. In SY2016, the students are creating videos to advertise for what they believe makes AMICUS a unique place to learn.
Introduction to Coding
In collaboration with "CA Tech Kids", students from Grade 3 to Grade 6 have the opportunity to discover how to program a simple video game (2 hrs/year since SY2014).
Programming Club
This after-school Kids' Club is opened to the students who want to learn how to program video games. Formerly organized by Amicus teachers for introducing Robotics and Coding, the club is now managed by "CA Tech Kids" (SY2016).
Toward Glocal Digital Citizens
At Amicus, we aim at fostering an appropriate attitude to participate in the information society.
Students are familiarized with Digital Ethics within moral education classes and whenever using technology or digital information sources such as search engines, online encyclopaedia, newspapers, etc.:
Lectures and discussions on positive and negative aspects of daily technology
Cross-curricular development of critical thinking and media & information literacy (validity and quality of information, opinions vs. facts…)
Netiquette (basic rules of conduct) and legal issues (material licenses, cyber-bullying…)
Through various projects, students are encouraged to become active producers of information, art and technology:
Writing and sharing (essays, reports, blogs, reviews, presentations…);
Audio-visual production (instructional videos, creative short movies, podcasts…);
Software and hardware design (video games, robots, electronic devices…).
In SY2013, some teachers started to use class blogs to inform parents, facilitate access to online resources for students, and present a selection of students' work. Since SY2014, class websites are used in all grade-levels, and specialist teachers can create a blog for their subject. Since April 2016, JH and Grade 6 students have started to use individual blogs for school too!