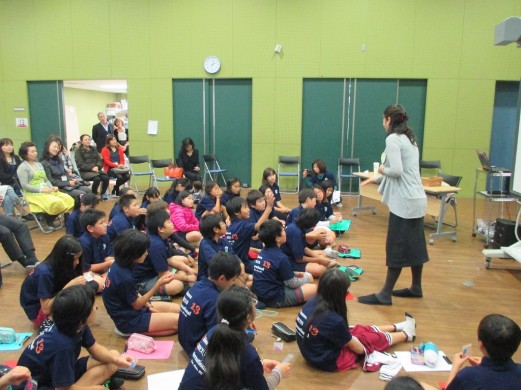 Grade 5 had a 13 year anniversary on March 4th during 5th and 6th period.
 3月4日(水)5年生は保護者と共に13祝いの学年行事がありました。
Parents prepared a special lunch and special lesson.13 year anniversary, we call 13 iwai, this is Okinawan old tradition. Traditionally it was only for girls. A long time ago people counted when they had a baby they would count it as one year old, not zero.When New Year's Day came they added one more year.So G5, students are 11 years old now, but with special counting they are 13years old, they have a 13 iwai.
G5 invited special guest speaker Ms Sakata, who told us about special birth education. Students and parents had a very good time.
G5 will be G6 soon. I hope they will be good leaders of our school.We would like to thank our parents for a special event for us.
13祝いは沖縄に昔から伝わる生年祝い(トシビー)で昔の成人式のようなものです。沖縄では昔赤ちゃんが生まれるとすぐ1才と数え、お正月が来るとさらに1才加え2才とする数え年を長く使っていました。13祝いは実年齢が11才がお祝いをする行事で特に女の子のお祝いでしたが今は男の子も祝います。当日5年生はバイキング形式のランチを食べた後誕生学アドバイザーの坂田先生による誕生学についての講演会がありました。赤ちゃんが大きくなるためにどれだけ周りに愛情をかけられ育つか、家族や周りと関わりがあるのか改めて学びました。4月から学校のリーダーになる5年生です。この日学んだことをしっかり活かして下さい。