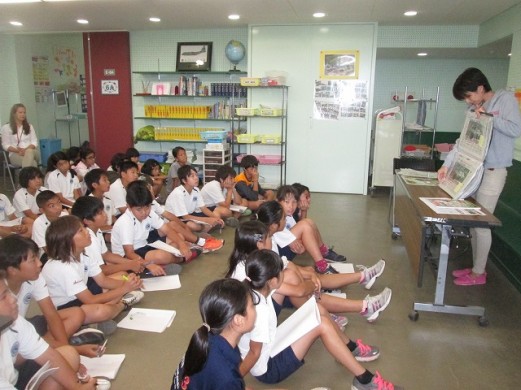 6年生の授業の一環で、当学園広報担当者がゲストスピーカとして招かれ、アミークスの広報についてお話をしました。
Our PR staff was invited as a guest speaker to give a speech about advertisement of AMICUS.
そのことについて、6年生の一人がまとめた記事を紹介します。 
Here is an article about it written by one of the six graders.
Today Mr. Yogi and Ms. Tomita tell us about bus and website.  The audience was 6 grade. We listened to Ms. Tomita and Mr. Yogi because we are going to make movies. We listen about blogs and how to update blogs. We ask why the bus color is red.  Mr. Yogi said that is the color of an okinawian flower, we didn't know that. It was very amazing. Ms. Tomita showed us Amicus newspaper advertising, it was a good day.