国語科の授業の一環として、6年生の各学級で第1回の学級討論会を行いました。
G6 held their first debate session in Japanese classes this week.
議題は「日本は集団的自衛権の行使を可能にするべきか」です。
事前に新聞記事を読んだり現状を話し合ったりしながら、議論のポイントを確認、準備を進めてきました。
難しいテーマではありましたがそれぞれがしっかりと役割を果たし、小学生とは思えないほどの活発な議論が行われました。
様々な角度から物事を捉え、自分の意見を持ちそれをしっかりと主張し合える姿勢はさすが。
The topic of debate was "Should Japan exercise the right to collective self-defense?"
6th graders have been read articles on newspaper and discussed some key points in classes as preparation.
It was a difficult topic to discuss but was very impressive to see their theoretical points and aggressive discussion during the debate.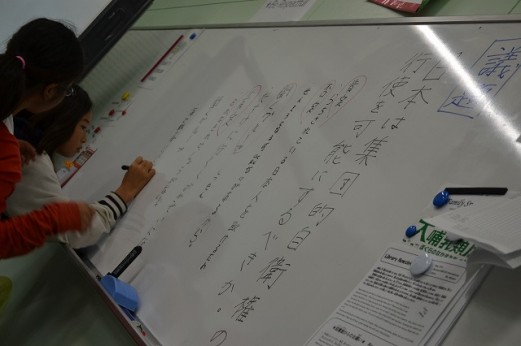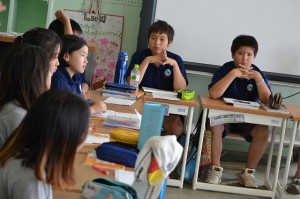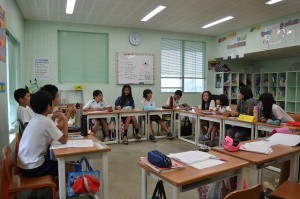 授業の後、ある男の子がつぶやきました。
「安倍首相がこれからどういう決断をしていくのか、気になるな・・。」
日本、世界で起こっている問題を身近なものと感じ、考え、しっかり自分の意見を持っていくことが出来るよう、国語科に限らず各教科にわたりこのような場面を増やしていく予定です。
小学校を卒業するまでには、両言語でのディベート能力をしっかり身に付けられるように取り組んでいきます。
A boy muttered to himself this after the class,
"Now I start wondering how Prime minister Abe decides as conclusion of this issue."
We are planning to have more opportunities in several subjects to let G6 students aware and have own opinions more about issues in Japan, and in the world.  By the end of the year our goal is to develop debate skills in Japanese and English.